Pyne Pod Boost 8500 Puffs Disposable Specification:
Salt Nicotine: 5%
Battery: 550mAh
Input Voltage:3.7V
Power Range:
Low-watt model up to 8500 Puffs
High watt Model up to 6000 Puffs
Port: Type C Rechargeable
Device: On and Off
Dual Mode: Double Click
Flavors of Pyne Pod Boost 8500 Puffs
Watermelon Bubble Gum
Strawberry Banana
Strawberry Watermelon
Mango Passion Fruit
Blueberry Cotton Candy
White Gummy
Clear
Cantaloupe Apple
Fizzy Cherry
Kiwi Passion Fruit Guava
Lemon Lime
Blueberry Raspberry
Tobacco
Colombian Coffee
Sakura Grape
Cool Mint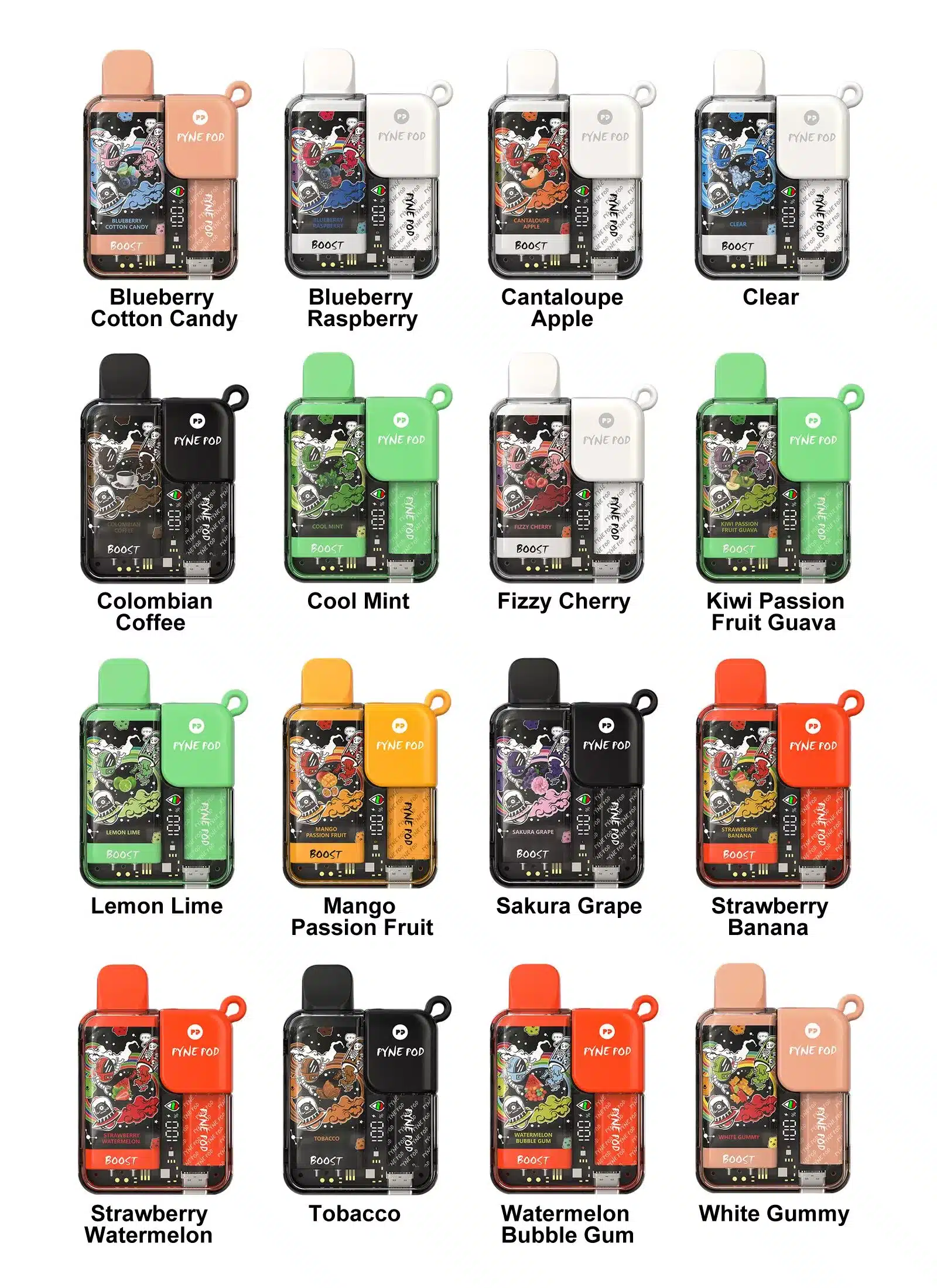 Looking for the ultimate vaping solution in Dubai, UAE? Your search ends here with the Pyne Pod Boost 8500 Puffs Disposable. This innovative device is designed to satisfy your vaping needs with style, performance, and convenience. Let's dive into what makes this disposable vape a standout choice for both newcomers and seasoned vapers.
Key Features:
Impressive 8500 Puffs: With Pyne Pod Boost, you can enjoy an astonishing 8500 puffs for the low-watt model and 6000 puffs for the high watt model. Say goodbye to constant refilling and enjoy an extended vaping experience.
Salt Nicotine: Experience the perfect nicotine hit with 5% salt nicotine concentration. It ensures a smooth yet satisfying throat hit, perfect for those looking to switch from traditional cigarettes.
Powerful Battery: Equipped with a robust 550mAh battery, the Pyne Pod Boost ensures long-lasting performance. Say farewell to frequent recharging – this device keeps up with your vaping pace.
Type C Rechargeable Port: Enjoy the convenience of a Type C rechargeable port, making it easy to charge your device whenever needed. No more hunting for specific charging cables; just plug in and power up.
Dual Mode Functionality: With an intuitive "On and Off" dual mode, the Pyne Pod Boost allows you to control when you vape. Simply double-click to activate or deactivate the device, giving you full control over your vaping experience.
Sleek and Portable: This disposable vape is designed with portability in mind. Its slim profile and lightweight construction make it easy to slip into your pocket or bag, ensuring you have your favorite vape on hand at all times.
Whether you're in the bustling city of Dubai or anywhere in the UAE, Pyne Pod Boost 8500 Puffs Disposable promises a delightful and satisfying vaping journey. Choose from the low-watt or high-watt model based on your preferences and relish the ease of use and exceptional performance this device offers.
Incorporate the Pyne Pod Boost into your vaping routine and experience an unmatched blend of style and functionality. Say goodbye to the inconvenience of refilling and recharging with this impressive disposable vape. Get yours today and elevate your vaping game in Dubai, UAE. It's time to boost your vaping experience with Pyne Pod!